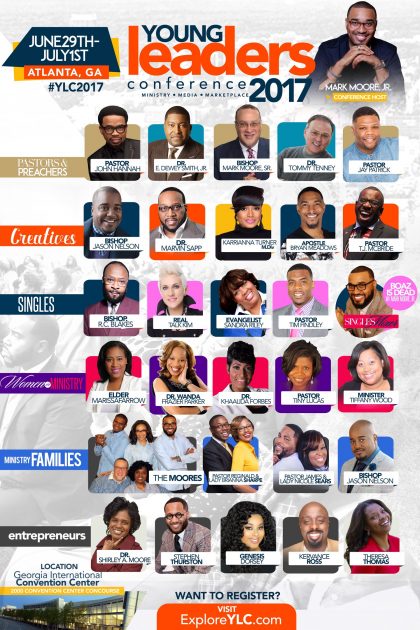 Last weekend I was one of the 1,515 that attended the Young Leader's Conference (YLC) in Atlanta, GA. There were attendees from 36 states and 10 countries! The first YLC took place in 2015 and only had about 300 people. You could credit the visionary behind the conference, Mark Moore Jr. for the growth, but he would tell you all the glory belongs to God. Mark is the son of Mark Moore, Sr. pastor at Faith Covenant Church in Atlanta. I got to meet both of them over the weekend. Mark Sr. signed his book, Provisions for the Journey I purchased there, and I already own his son's book Boaz is Dead.
I serve in several positions at my church, but there aren't many opportunities for me to be poured into so this event was just what I needed. Plus there are few young adults at my church, so seeing so many young leaders from around the world was encouraging. To say it was empowering is an understatement. This was not just a networking, teach you some leadership skills, type of conference. With God at the forefront of each session, wisdom was shared, souls were consoled and anointing overflowed. The worship sessions brought us even closer to Him. Go next year and you'll see what I mean! I will be unpacking the wisdom for some time to come. I would definitely recommend at the least following the speakers on social media and checking out their resources.
I went a mix of the creatives, singles, and entrepreneur sessions. All sessions were recorded and will probably be available for purchase soon. The worship sessions can be seen on the conference's Facebook page.
Here are 10 takeaways. I could easily write another post with 10 more!
God doesn't give talents – He invests them – Mark Moore Jr. said talents are not given based on our zeal, but our ability. With more talent can come more trouble, and there is no trouble free level as we can think sometimes. We must consider how we are stewarding God's investment in us.
If God called you, then much is required, but not just with your talents. Being gifted does not exempt you from obedience. – Pastor T.J McBride discussed how Levites were set apart and if they were not worthy they could die after touching the tabernacle (God's glory). We have to be who we "post" to be. This also reminded me of Saul who lost his anointing because of his disobedience.
Creatives create in cycles – Apostle Bryan Meadows had an interesting metaphor on how the Earth is a sphere and for seasons to change it moves in cycles; likewise the seasons and cycles in our lives result in change. When God moved over the Earth in Genesis darkness became light, and He will do the same with us. Also, just like how the Earth has ecosystems that promotes growth, we have ecosystems that mature us and help us gain perspective.
The importance of knowing your community – Entrepreneur Genesis Dorsey stressed the importance of building community first, then on the product. In fact, your community can give you inspiration for your product. Don't just assume people will want your product – do focus groups – and not just with people you know.
Vision is time sensitive – Speaker and author Karri Turner said dreams comes when you are sleep, visions come when you are awake. You have to be all in to move you vision from fantasy to fruition.
Be mature enough to recognize value – This was from the singles session I went to with Bishop R.C Blakes. Your spouse may not look like the person you dreamed up but we have to look from the inside out. There have been times (myself included) where we can get caught up in looks while the person is breaking our heart.
Education – not your talent – differentiates you – Pastor and singer Jason Nelson used this quote to when explaining the importance of wisdom gained in the beginning season of a ministry.
The enemy's end game is to stop the wall being built – Mark Moore Jr. stated Nehemiah's haters tried to minimize his effort but their endgame was to stop the wall from being built. If Nehemiah had stopped, the Jews would have been unprotected and perhaps wiped out. If we do not do what God is calling us to do, who knows the impact it could have on the world. Who are you pouring into that's going to pour into you later – the world needs your output.
"You need Mary and Martha to live at the same house. Hospitality and worship mixed together will lead God to raise your dead brothers and sisters!" – This was a powerful quote by preacher and author Tommy Tenney. He described how Mary served Jesus's deity while Martha served his humanity through hospitality. If we (and churches) can not be hospitable to what we can see physically, how can we worship what we can't see?
A prophet is truly not without honor except in his own country – Many people had questions about their gifts not being received in their hometown or local church. From music to social media marketing, it was universal across talents. Honestly I have felt this way sometimes, but it was comforting to know I wasn't alone. We were encouraged in this area to press on by several of the speakers. The fruit we produce can't be argued with and will speak for itself.
Honorable Mentions:
"Adam had other ribs!" – This remark was given by Tommy Tenney when someone asked during a panel if there is only one person we are destined to marry. It was definitely one of those "you had to have been there" moments.
"Stop asking Jesus to be a fence if you're going to jump over it" – Mark Moore Jr said this in the general session when discussing Nehemiah.
Save
Save
Save
Save
Save
Save